News
Recording of the The Collective Repast: The Remix -- Oct. 16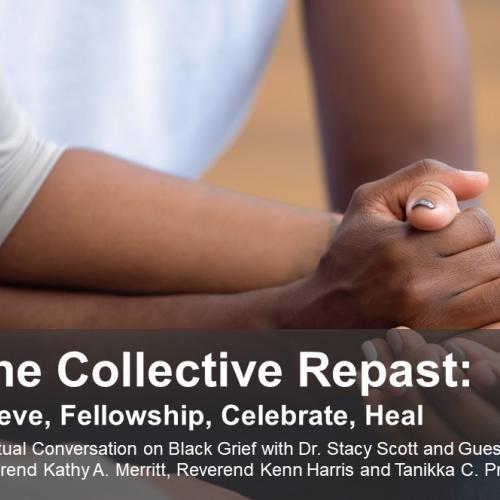 Oct 17, 2020
If you missed the second webinar of The Collective Repast, you missed a lively, funny, inspiring discussion. An hour is never enough! We will be back in November to continue our talk about Black grief and mental health. So for those of you who missed it and those of us who want to experience it one more time, here a link to the recording from the Oct. event:
THE COLLECTIVE REPAST: GRIEVE, FELLOWSHIP, CELEBRATE, HEAL: THE REMIX -- FRIDAY, OCT. 16
https://zoom.us/rec/share/XQ-VEV7EfRMzQwHHnWWPY-xUGXHBQxdX6OWd-TIBUWFYKM...
Passcode: @LTB&t7#
Thank you for your participation and support!
The Collective Repast Series
In many communities the repast is a tradition, a time family, friends, and close acquaintances sit down for a meal and conversation —not of the death of loved one, but of their life journey and a future full of faith and hope for the living. COVID-19 has denied many of us the opportunity to come together.
It's a conversation with Stacy Scott, Ph.D., MPA and guests where everyday people, public health professionals, academics, and others talk about their observations and experiences in the cycle of grief. Please join Baby 1st Network as we provide a space to grieve, fellowship, celebrate and heal virtually.