News
Fall Fundraiser: Jazz & Jokes Night wth Highly Favored Productions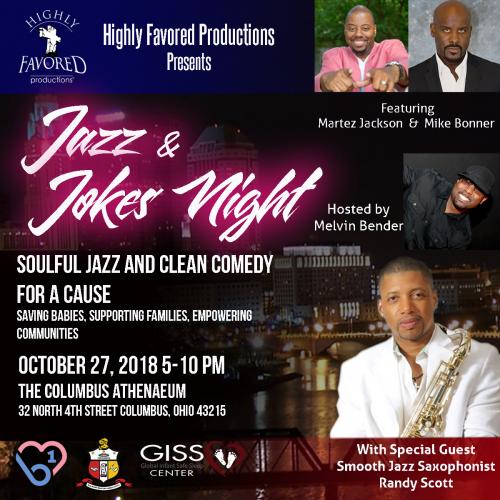 Sep 12, 2018
Reserve Your Table or Seats Today!!
Picture yourself at a local lounge, in downtown Columbus, sitting around a candlelit table with friends and associates, listening to jazz and then laughing out loud at a clean comedy show.
Come and join Baby 1st Network, Kappa Alpha Psi Fraternity, Inc., Fatherhood Matters, and the Global Infant Safe Sleep (GISS) Center for Jazz & Jokes Night wth Highly Favored Production on Saturday, October 27, 2018, at The Columbus Athenaeum in downtown Columbus as we host an elegant evening of fun in celebration of Baby 1st Network's 40-year mission of saving babies and supporting families and communities. Wear your evening chic attire because we've planned an evening of music, laughter, and giving with Highly Favored Productions -- well known in Detroit and regionally for soulful jazz and hilarious comedy that even "church folk" can enjoy.
The event will also include a Health & Vendor Fair, safe infant sleep presentation, VIP reception, silent auction and more. Proceeds will support our mission of saving babies, including safe infant sleep education, bereavement support, cribs for families and community programs.
To purchase tickets, go to https://jazz-jokes-night.eventbrite.com
Health & Vendor Fair starts at 5 pm
VIP Reception from 5:30 - 6:30 pm
Ballroom doors open at 6 pm
For more information or to become a sponsor, contact Karla Thornhill Coleman at karla@thornhillcom.com or call 800-477-7437.
Come have fun on the town for a great cause -- saving our babies!
Jazz & Jokes Night Entertainment
Highly Favored Productions
Highly Favored Productions provides high-quality entertainment with hilarious clean comedy, smooth jazz, and much more. For more information and reviews, go to http://www.highlyfavoredproductions.com/. Here's the entertainment for our Oct. 27th fundraising event:
Randy Scott, Jazz Musician
Randy Scott is a professional musician, record producer, and composer, as well as a member of Kappa Alpha Psi Fraternity, Inc. His 4th CD entitled, Breathe remained in the top 40 nationally for five months. In 2008, Randy produced four songs on Vickie Winans' CD, Woman To Woman. He also worked on her recent single, How I Got Over, which debuted at #1 on Billboard. In 2009, Randy produced seven songs for jazz guitarist, Tim Bowman's CD, which was the #1 record in the nation on the Smooth Jazz Charts. Randy recently signed a new record deal with Trippin N Rhythm Records, distributed by Sony, and performed as their new artist in Dubai last year. This summer will bring the release of Randy's 5th CD, which is currently in production. He has been awarded two Gold records, two Platinum records and one Multi-platinum record for his work on a Gospel Wow compilation CD and recordings with Grammy award winners, Kirk Franklin, and Fred Hammond. Randy has a bachelor's in music education from Michigan State University and a master's from Wayne State University. He contributes all of his accomplishments to his faith and belief in God.
Martez Jackson, Comedian
Having recently appeared on LaughsTV on the Fox Network, Martez has toured across the country performing at comedy clubs and colleges. Comedy clubs include the Improv in Miami and West Palm Beach, Florida, Mark Ridley's Comedy Castle and Caroline's in New York just to name a few. Martez has also been named one of Robert Townsend's Partners in Crime, "The Next Generation," which is Robert Townsend's latest addition to the classic Partners in Crime. The DVD can be purchased at www.amazon.com . Martez has also performed, competed in and been a finalist in many comedy competitions and festivals, such as The NC Comedy Arts Festival, The Funniest Comic in Cleveland, The Bay Area Comedy Competition, and Comics on Fire just to name a few.
Mike Bonner, Comedian
Any length of conversation and one starts to figure out that Mike Bonner is moving through time at a pace all his own. Bonner is inspired by his experiences as a husband and father on a quest for the ideal nuclear family. His comedy is equally inspired by failures and rock-bottom observations from a perspective that give Bonner a Midas touch. His penchant for interpreting life experiences in a way that is universal as much as it is comical has landed him opportunities to perform in front of diverse audiences in his hometown of Detroit and abroad. With a career spanning two decades, Bonner has featured as a comic on BET's Comicview, Comics Unleashed, writer and performer for P. Diddy present the Bad Boys of Comedy and a litany of other TV, stage & radio appearances.
Bonner's career as a comedian predates the popularity of "urban comedy". After honing his talents at the Comedy Castle, a popular venue in Metro Detroit, Bonner began to recognize the need for a specialized experience in comedy for members of his community. This inspired an entrepreneurial spirit, leading Bonner to produce his own comedy showcases inside the city limits. This not only created opportunities for comedy fans to enjoy themselves in a more urban suited atmosphere, it also created opportunities for up and coming comics to cut their teeth, fall on their face and eventually base their successes all in the house that Bonner built. It is in that same spirit of looking back & reaching forward that Bonner continues to forge meaningful work relationships with other veterans & newcomers alike.
Melvin Bender, Comedian
With Over 23 national commercials and being picked to be the spokesperson for Flint Bishop International Airport commercials as "Sid" the skycap, roles on the new hit T.V show Detroiter's on Comedy Central and the new cop thriller movie The Assassins Code under his belt Melvin has proven to be a great all-around talent. With a host of experience entertaining people all across the country, Melvin Bender is a comedian with a heart for making people laugh. He has opened up for the likes of Cedric the Entertainer, Kevin Hart, Katt Williams, Anita Baker, Patti Labelle, and a host of other celebrities.
Melvin's comedy is multifaceted, which gives people an opportunity to see life the way he sees it. With a high energy performance and an eccentric look at life, you will be thoroughly entertained with his quick wit and ability to relate to all aspects of life. Melvin's brand of comedy is clean, refreshing, and therapeutic for all he comes in contact with. Melvin looks forward to making you laugh at your event and you will surely be entertained.
Tags