News
Blog: Black America Is Dying but Unable to Mourn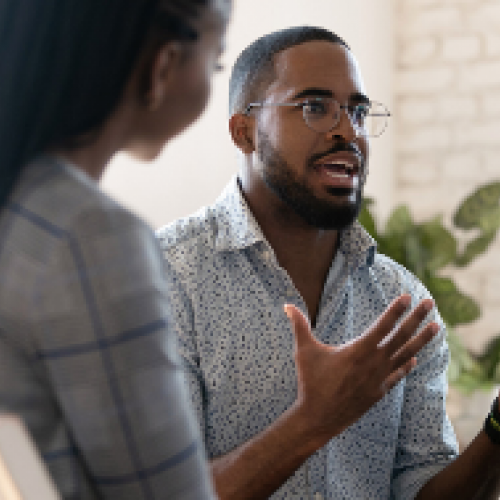 Oct 18, 2020
"Black America is dying slowly. We are dying a slow suffocating death. That is what it means to be black in these United States. That is what it has meant since so many of our ancestors drew their last breaths in the bellies of slave ships crossing the Atlantic. We died on the way here. And those deaths were rarely quick and never merciful."
Infant mortality. Gun violence and police brutality. Heart disease and cancer. Maternal mortality. The coronavirus pandemic. In countless ways, both past and present, Black America is dying.
Black death is woven in the fabric of American identity. Liberty, equality, individualism—all were given to some at the expense of Black, Brown, and Indigenous America. What began in enslavement continues today, only magnified by centuries of disparate death and with it, disparate grief.
This grief is unique, explains public health expert Dr. Stacy Scott, PhD, MPA. Black grief is compounded both by centuries of violence, forced restrictions on mourning, and by the sheer waste of life. Because these are preventable deaths, caused first by enslavement, then by Black codes and Jim Crow laws, and now by the insidious and ongoing effects of systemic racism.
Dr. Scott's work focuses on understanding this grief, building awareness, and unifying services that can better support the Black community.
"In my work, I hear people describe grief as a 'knife to my heart', 'a hole that can never be filled', an 'enduring pain,'" says Dr. Scott. "I sometimes wonder if I had the opportunity to ask my African ancestors what it felt like to watch their loved ones be pushed through the 'door of no return' on the shore of West Africa some 401 years ago, just how would they respond? Then and now, our grief is unique."
Importantly, Black grief is also denied. Enslaved Africans were rarely given the opportunity to mourn their losses.  Detachment and endurance were critical to surviving a plethora of human atrocities.  Today, the physical and mental violence of systemic racism forces the Black community to continue to adopt those same survival tactics. Those who do seek supportive services are often retraumatized by implicit bias and racism. And so Black grief continues to be denied.  
"What happens to people who do not have the opportunity to mourn or validate their losses. ?" asks Scott. "How do we describe that type of grief?"
Through her research, Dr. Scott is seeking answers to these questions. By deconstructing the five stages of grief developed by Elisabeth Kübler-Ross—denial, anger, bargaining, depression, acceptance—Scott has introduced new stages that better reflect the Black experience. These stages do not reject those developed by Ross; instead, they encompass and build off of them.  
A note on methodology and terminology
Dr. Scott recognizes that there have been criticism of Kübler-Ross's five-stage model of grief, most notably that a person may not experience the stages in "the right order" or will fail to experience one or more of the stages of grief at all. Notably though, Kübler-Ross has since stated that the stages do not need to be experienced in order and people do not need to experience all five.
Dr. Scott acknowledges the criticism of Kübler-Ross's stages, as well as the need for more evidence around them. However, gives the stages prominence in American culture, Scott sees them as an important launching point when looking at Black grief, especially given how few studies of Black grief exist.
"The stages give us a place to start a conversation that has not happened in more than 400 years," says Scott. "They are a familiar conceptual framework that can encourage us to tackle a really tough and complicated subject: death and loss in Black American and the corresponding expression of grief."
The Five Stage of Black Grief
Stage 1: Denial and Despair
Denial is common and occurs when the mind tries to rationalize the unacceptableness and unexpectedness of death. But because Black death is disturbingly tied to Black life in the U.S. and therefore less unexpected, denial quickly shifts to despair.
"No matter how many precautions we take, there will always be a sense of hopelessness and helpless in keeping ourselves and our loved ones safe," says Scott.  
This sense of despair is often exacerbated by the realization that being a Black person could contribute to the loss of life–whether through outright violence like in the case of George Floyd or through enduring a lifetime of racism, bias, and racial trauma.
Stage 2, Anger and self-blame
Anger, the second stage of grief, is a way to release emotional stress without being vulnerable. It allows people to mask other more painful emotions and not fully deal with their grief. With Black grief, anger is often directed inward as self-blame, says Scott. This stems from a perceived failure to protect loved one against the violence of systemic racism, when in fact that protection should never have been needed and is ultimately impossible to provide—the system itself precludes it. Put another way: Black people must carry a guilt that does not belong to them; it belongs to the system, structures, and people who uphold White supremacy.
Like anger, self-blame can leave people feeling isolated in their experience and perceived as unapproachable when they could most benefit from comfort, connection, and reassurance.
Stage 3: Bargaining and Move to Action
Bargaining stems from a desire to take some control of the situation. Often this means turning to a higher power who could potentially change the outcome.
While bargaining may still take place, Scott argues that Black people are more likely to move to action mid-way through the grieving process because they have no choice. The pervasive effects of a racist society require continued mental fortitude, vigilance, and action.
Stage 4: Depression and Endurance
For the Black community, depression is defined by endurance, says Scott. The sadness and isolation of depression exists, but even as mourning intensifies, there's a need to be strong and move forward. The perception of strength can be a barrier to aftercare and even though the need for support increases, there is often little provided.
Stage 5: Survival
Survival can be considered the new acceptance stage.
"To survive, we must persevere despite what we are feeling," says Scott. Survival precludes the vulnerability of grief and therefore an individual's grieving process is never finished. Not only does individual grief remain, but it is exacerbated by the collective grief of over 400 years of inequities, disparate death, and unfulfilled bereavement.
Moving towards healing
Healing can happen, says Scott. Scholars like Dr. Roberta K. Timothy have identified ways to support self and community care in the face of racism and intersectional violence. Supportive services can do more by addressing racism's impact on Black grief, as well as learning about cultural grief and how past and present losses contribute to the grieving process.
"Through continued education and conversation, we can center Black grief, center Black healing, and begin to address the impact of expansive loss," says Scott.
Interested in learning more? Attend the Collective Repast where Scott, scholars, and guests discuss their observations and experiences in the cycle of Black Grief.