News
Baby 1st Network's Collective Repast Remix Elevates Black Grief Discussion; Introduces the 4 Steps Towards Healing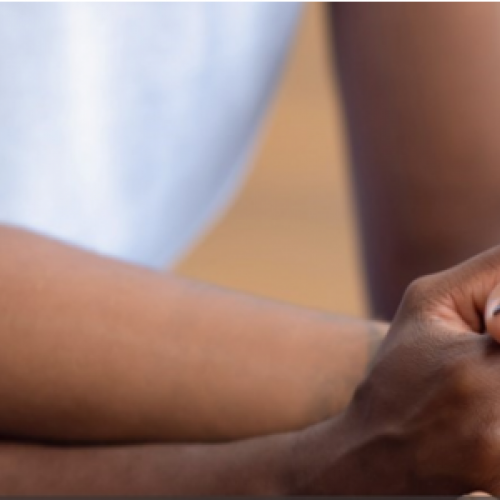 Nov 07, 2020
By Brittani Holsey
This is a recap of The Collective Repast: Grieve, Fellowship, Celebrate, Heal --The Remix (Part 2) webinar.  Click here to watch the entire webinar.
"No matter how small the footprint, you can still have an impact on the world."
-Dr. Stacy Scott
In an animated and impactful sequel to "The Collective Repast" webinar, Baby 1st Network came back for a 'remix'! In honor of October being Pregnancy and Infant Loss awareness month, Dr. Stacy Scott, Ph.D., MPA, hosted a continued conversation between leaders Rev. Kathy A. Merritt, Rev. Kenn Harris, and Tanikka C. Price, Esq. all about the cycle of Black grief and how to cope, specifically, the untold pain that comes from losing a child.
Due to tragedies such as COVID-19, homicide, police brutality, and the high infant mortality rates, the Black community is experiencing significant loss with little support. Realizing the need for a safe place to understand grief, these leaders joined to share their experiences, offer words of faith, provide resources to others, and get raw about their own personal stories of loss. Losing a baby — either during pregnancy or after birth — is one of the most profoundly painful experiences a parent will ever endure, and unfortunately, more common than most even realize.
Leaders Role in Grief
More than 79% of African Americans identify as Christian, and the church is a meeting place for many Black communities. In relation to helping others seek guidance for grief, Rev. Merritt believes that leaders have a responsibility to look for the signs of grief in their communities. "People don't realize that they are grieving." says Merritt, and she believes that leaders can play an active role in healing more often by asking the question, "How can I help?"
"The tendency is to withdraw, but we have to go and pull people out of it." Rev. Kenn Harris agrees, and he also talks about how people need to realize that they don't have to go through grief alone because "death impacts the entire community." Referencing the tragic loss of his own son Rev. Harris says, "As black people we do things in community - we get through stuff together."
Acknowledging Grief
Price said, "You cannot heal what you cannot acknowledge. We don't vocalize what we're feeling because of how we're conditioned."
Culturally, Black people are conditioned to bottle up their emotions, a trauma response which could be the systematic effect of slavery that African Americans still face.  "We have lost the ability to say, 'this hurt me,'" said Price. "So, I think that the first step is to say, "I'm in pain.'"
Black people must often work in systems that don't allow room for grief. Whether it is the pressures of work, family, society, and other issues from within the community – there is a belief system in place that people can't or shouldn't address their emotions.
"Everything that is being said leads me to think that this is related to the reluctance around talking about mental health in the Black community," said Dr. Scott.
During the webinar, Scott and Price introduced the four steps toward healing: Permission to Grieve, Time to Grieve, Space to Grieve and Distinguishing the Grief.
PTSD – 4 Steps Towards Healing
#1 Permission to grieve
The first step towards healing that was discussed was the permission to grieve. "If we don't feel like we are an authority in our lives, we won't give ourselves permission to grieve," said Rev. Merritt. "It's about knowing that God gave me the power to say, 'it's ok to cry.'"
Price points out that this first step is imperative to not only your own personal healing, but the healing of generations to come. "The grief is showing up in anxiety, depression, [illness], anger, and abuse." says Price, "So when we give ourselves permission to grieve, we allow ourselves an opportunity to help stop the grief from morphing into other things down the line."
#2 Time to grieve
The next step of healing discussed is the time to grieve. Giving yourself and those around you the necessary time to heal also means understanding that the amount of time needed might be different.
"The Lord tells us that there is a time [for everything], but he didn't say that all of our time is the same" said Rev. Merritt
Grief can cause many difficult and unexpected emotions, from shock or anger to disbelief, guilt, and profound sadness. The pain of grief can also disrupt your physical health, making it difficult to sleep, eat, or even think straight. Allowing yourself time to better understand your grief and process your sadness, also means finding a safe space to do so.
"Grieving isn't just for the Church house - We need a community that gives us the space to grieve wherever we need it." says Rev. Harris.
" …there is a grieving process with any significant loss, and the breadth of your pain is determined by the depth of your love," explains Price. "And that's where time ceases to exist. So if your employer gave you three days off, don't think, 'I got to get my self back together in the span of these three days, because there is no time when it come to healing your broken heart from that loss.
#4 Space to Grieve
"Time and space do go together," says Price, "Because once you have carved out the time, you have to make sure that space is safe for you to grieve. What would happen if you start to grieve in a place that's not safe, people will say, 'girl dry up them tears, why are you still crying about that for? Oh, you had a miscarriage, but you have six other kids, why are you upset about that?" And that will only again compound trauma on trauma, so you have to make sure they space you are grieving in is a safe space."
If you don't feel able to share your feelings in your current relationships, look for a grief support group at your local church, hospital, community center, or therapist's office. "We need to provide the tools and training within in our community to help people cope." Says Merritt.
#5 Distinguishing the Grief
"We like to run from grief, and those feelings – but we need to learn to just sit in it." says Price when talking about processing the emotions from the passing of her cousin.
Distinguishing grief is all about learning how to separate your feelings of sadness from your other emotions and finding healthier ways to handle them. 
Having perspective around your pain is key to building emotional skills that help people move in a healthy way through grief. For the black community, these types of skills are especially critical. While nothing can soothe the loss of a child, embracing mental health professionals and others trained in counseling, or application of spiritual faith principles is the best way forward for the Black community.
"This is why I love this Collective Repast, because it's at the repast where you come to fellowship – and that's where strength is." Said Reverend Kenn Harris.
About the panelists:
Stacy Scott, Ph.D., MPA, Senior Project director, National Institute for Children's Health Quality
A Toledo, Ohio native, Stacy Scott, Ph.D., MPA, is a 30-year public health advocate and infant safe sleep expert who's worked from the government agency level to ground zero spearheading numerous community outreach programs nationwide to end health disparities and reduce the risk of sudden unexpected infant deaths. 
Rev. Kenn L. Harris, Senior Project Director, National Institute for Children's Health Quality
Reverend Kenn Harris has nearly 30 years of experience working on a national initiative for maternal and child health, community engagement and infant mortality. Ken started his work in Boston at the Boston Healthy Start Initiative, then spent 20 years directing the New Haven Healthy Start program at the Community Foundation for Greater New Haven in New Haven, Connecticut.
Rev. Kathy A Merritt, New Birth Community
Rev. Kathy A. Merritt is a native of Cleveland, OH and a graduate of both the Cleveland public school system and the University of Cincinnati.  She also attended William Taft Law School and Payne Theological Seminary.  Rev. Merritt is a pastor, teacher, conference speaker, poet, plenary session leader, mentor and bridge builder.  She is the pastor and founder of New Birth Community AME Church in Greensboro, NC., a ministry that was born to praise God and serve His community in mind, body & soul.
Tanikka Price, JD.
Tanikka Price uses her training as a lawyer, her passion as a motivational speaker and the knowledge she gained during her Master's Degree training at OSU to develop and train others in caring for and taking responsibility for their own health. She was inspired to educate following the birth of her premature twins. Ms. Price is a wife and mother of six, she is currently in a graduate program to earn her Doctorate in Education Degree studying the effects of Adverse Childhood Experiences on African American women's educational attainment. She has an American Culture degree from Vassar College and a law degree from Capital University Law School. She is currently the Director of Data and Finance at the Healthcare Collaborative of Grater Columbus.
Brittani Holsey is a freelance reporter from Long Beach, California, working as a consultant with Baby 1st Network.