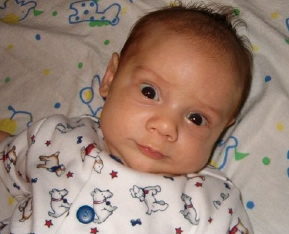 February 24, 2004 - May 5, 2004
Our little Seth was born on Feb. 24, 2004 at 7:37 a.m..  He weighed 5 lbs. 8 1/2 oz. and was 19" long.  He had so much beautiful dark hair, a cute little button nose and already the greatest personality.  We were and still are so happy he came into our lives. 
On May 5, 2004 at 5:30 a.m.  Seth followed angels to heaven to be with god.  Our world was turned upside down that day and we have yet to recover. He had such an impact on our lives we probably never will; it may just get easier. We miss him so much no words could express.  The pain we feel in our hearts is at times unbearable but the love we have for each other gets us through those times.  He will always be our baby boy and he will always be loved.     
We love you sweet Seth and miss you so much.   
Mommy, Daddy, Emilee and Devante