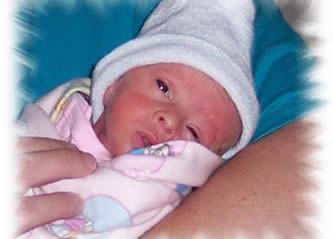 August 25, 2006 - October 14, 2006
You were here for such a short time, we held you and loved you and comforted you when you cried.
Your beautiful smile will be the image that I see every night when I close my eyes to sleep.
You are loved by everyone. God only knows, now you're in heaven and I feel your breath when the wind blows.
My precious baby Gabrielle.  I'll alwaysremember your sweet smell, the way you would smile when I'd rock you at night and sing to you sweet lullabies.
Rest your soul and I'll pray each day thatGod be with you and I'll see you again someday.
I Love You Baby with all my heart, mind, body and soul.
Love, Mommy
XOXOXOXOXOXOXOXO 
(written by Shannon Varian)