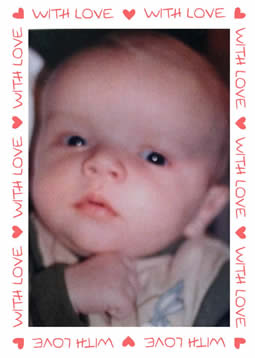 April 12, 1997 - June 18,1997
My sweet baby boy, my first born, you gave me the title of mommy. I miss you sooo much. Our Family as grown since you have left us to be with Jesus but with every addition comes more love.
All 3 of your brothers and your sister love you. We keep your picture in the living room and it is included in every family photo. They each know how much they love each other and enjoy being a family; Its a constant reminder of what we are missing out on with you. As you would be starting your Senior Year of high school I cant imagine you as anything more than my sweet baby boy.
Until we meet again,
    Mommy